STEFANO SANTUCCI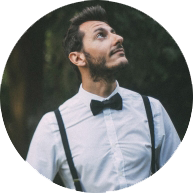 Stefano Santucci, Tastino0 for web friends, born in 1983 in Cremona, a little town in the north of Italy.
Now living in the middle of Tuscany in Florence since 2003.
I'm a destination wedding and visual storytelling photographer. I'm the owner of the Studio. My style — and my objective — is simple: every shot must tell a true story. Nothing less.
I'm inspired by love stories, old romantics movies, forgotten objects. I'm curious and sincere, creative and smiling. I love my work.
In my business I am deliberately small and I want stay in this way: I prefer to work for quality rather than quantity and to keep the artistic control over all my projects. I offer photo services and own a small print lab I'm very proud of. Every picture is on sale. I have been selected as a member of 
The World's Best Wedding Photographers by Junebug
. In my room there's also a dusty psychology degree.  
Stefano Santucci:  
Visual
Storytelling
and
Wedding Destination Photographer. One Shot / One Story.
LUCREZIA COSSO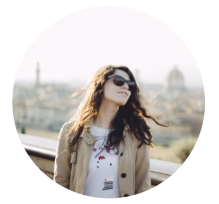 I am an aerospace engineering student who fell in love with photography. It happened when I was 15 with an old 2mpx Canon in Perito Moreno, Argentina. I learned the basics at school attending a two lessons course about film photography. At that time I was using my dad's Nikon FG-20. My mom gave it to him when he graduated in marine engineering. When he passed away that camera become the most important memory of my life. I always have it with me. In my veins flows Italian, Argentine, Irish, Spanish, Libanese and French blood. I like to think at me as a citizen of the world. Indeed my best friend is Japanese. In Venice I've taken the 4 polaroids I love the most. I love Leonardo and when I was little my dream was to became an inventor after seeing his wings project. On my wishlist: Iceland, Japan, balloon trip, take pictures to aurora borealis.  
Lucrezia Cosso:
 Fine Art and Emotional Wedding Photographer.